Big Box storage solutions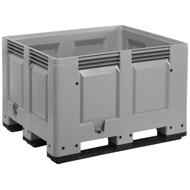 Our rigid pallet containers offer a robust packaging system which can be used again and again. Our Big Box range has straight, smooth double-skinned walls which give it a large internal volume. The rigid pallet containers are designed with rounded rims and corners which mean that they are easy to keep clean and ensure maximum load capacity and protection of goods. Accessories include access doors, castor wheels, skids and lid as well as drain plugs and taps. Perforated sides and base can also be specified.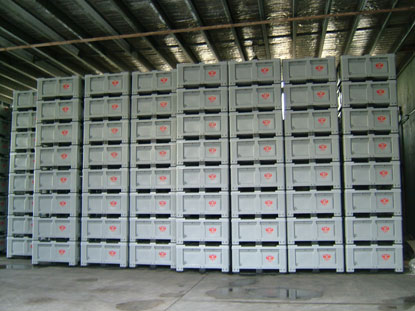 Not only is the plastic bin smooth internally that will never damage the produce inside, but it cannot hold bacteria internally therefore it is a hygeneic solution as well as a financial solution in the fact it will provide savings over many many years that a wooden product cannot.
The financial bonanza of using foldable 100% plastic pallet bins is:
They never internally deteriorate, which eliminates the need to endlessly maintain the bin, which is a continual maintenance cost.
The foldable pallet bin interlocks which provides safe stable stacking to meet all health and safety requirements that current bins can never meet.
The ability to fold down when empty provides huge cost savings in freight when returned empty.
The ability of 100% Plastic construction to be stored outside in any weather without deterioration will save huge costs over the life of the bin.
---
Note: The old style wooden bins do not inter lock therefore are unstable when stacked over two high. They also damage the product within them because of their abrasive nature of wood.
---
SchoellerAllibert formerly known as Schoeller Arca Systems Big Box are the leaders in produce and food industry containers. Their 100% Virgin HDPE plastic construction includes no recycled materials. This feature allows direct contact with edible foods, it also guarantees daily use in chillers and freezers without cracking or deteriation over many years of use. Big Box has many copiers but none can offer the superior performance that our unique design offers. Big Box can safely stack up to eight high FULL in warehouse or three high FULL during transportation. This is made possible by the 35mm interlocking depth of the top bin skid into the bin below, with or without the lid.