Bins and Containers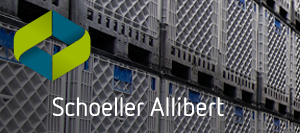 Zorex Distributors Ltd is a major supplier of Foldable Pallet bins and IBC. Zorex Distributors Ltd has represented Schoeller Allibert Systems (SAS) for over 10 years in Australiasia. SAS is the world largest manufacturer of Injection Moulded pallets, pallet bins and foldable IBC's. Zorex Distributors Ltd has supplied New Zaland's largest companies Reusable Recyclable Packaging for many years and continues to demonstrate how companies can reduce freight costs, warehouse storage costs while maintaining the highest standards in food product hygiene. SAS products are world leaders in safe stacking because all our pallet bins and IBC's inter-stack that allows for safe stacking up to 3 high, FULL, during transportation or up to 10 high, FULL, in the warehouse.
Zorex Distributors Ltd is also a specialist supplier to ship owners for Separator & Purifier spare parts as well as Turbo charger parts, gaskets, or any ship part required to NZ's largest ship owners.
Scroll to bottom of page for downloadable .PDF Catalogues.
---
Catalogs

Bins and storage solutions 2016 (12MB)
SA IBC Brochure (1.3MB)